Reading
"I didn't want to read but the school has made me want to."
Year 6 pupil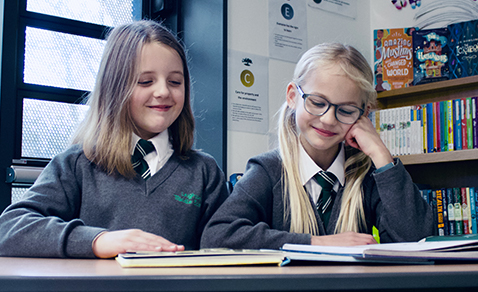 Our whole school reading approach is to encourage a love of reading for pleasure and to increase fluency and confidence. We have a number of approaches in place for this year.
Some of our strategies are included below:
Whole School Reading Approaches 2023/2024
Encourage a love of reading, fluency and confidence

Form tutors reading aloud twice a week in afternoon registration to their form from a text voted for by the pupils

Positive role models

Switched to whole texts (Research 12 weeks reading 8 months progress but 16 months for weakest readers)

Encourage all staff to read any texts aloud in lessons (cold read)

Silent Reading in pm reg.

1:1 reading with Weakest 20% twice a week in afternoon registration with an adult or a Y8 peer reader.

New book cases for classrooms that need one/ensuring each classroom has a nice 'book display' area to make reading inviting.

Higher quality reading material in KS3 classrooms purchased.

Reading Challenges

Different reading challenges set in KS2 and KS3 to encourage reading over the school holidays.

Book vending machine Visual/inspiring, rewards for reading and promotes the love of reading.

Share information on website about the books we are reading in PM registration: parents may wish to purchase.

New TV screens at key points around the school to promote reading e.g. famous quotes/book suggestions.

Head teacher/SLT/guests live stream reading in form time.

Reading Assembly – promotion and explanation of extended reg.

Magpie Books in English. Children collect interesting vocabulary as they hear anyone read to them or from texts they read themselves.

Year 8 peer readers to support KS2/3 reading and receive some training to support.

Book Exchange

Have copies in the library of the 'reading aloud' book for those who wish to read it.

Accelerated Reader for all

LSAs to receive phonics training to support weakest readers. Increase knowledge of phonics skills test at KS1.

Echo Reading Year 5 and 6

Echo Read sharing of strategies for staff

Monday briefings – raising profile of most vulnerable pupils. Sharing strategies that work.

Year 5 literacy group phonics focus.

Accelerated Literacy Groups

Extended pm registration for reading. Discussion with School Council and Staff.

Parental Workshop. Reading support strategies for selected parents.

World Book Day bespoke activities and promotion

Teacher Phonics Training. Whole session plus drip feed briefings.

Weakest 20% nationally identified for all staff.

Strategies to support Weakest 20%

Personalised reading strategies given to all staff to use in all lessons to support weakest 20% of readers.

Reading Records re-introduced and used alongside 1:1 reading.

IDL for Weakest 30% in KS3

Personalised programme to aid word recognition and word reading for Weakest 30% in KS3 during morning registrations.

Tier 2 Vocabulary training and further reminders for staff.

Presentation to Governors

Accelerated Reader presentation to Governors to disseminate training and raise profile with Governors.

Training material for Accelerated Reader for Governors

Guide to what Accelerated Reader is produced and shared with Governors.

Recommended reading lists revamped to include more non-fiction. Shared with parents and available on our school website.
Accelerated Reader and MyOn
All pupils at Leighton Middle have access to Accelerated Reader and MyOn to support their reading. Accelerated Reader is a reading system that enables us to closely monitor their reading age and ability. This is used alongside MyOn, which is an online library of books that can recommend books to pupils based on their reading ability. Years 5, 6 and 7 have a weekly Accelerated Reader lesson in the library as part of their English lessons and Year 8 have theirs fortnightly. During this lesson, they can read online using MyOn; read a physical copy of a book or they may be heard reading aloud by an adult.
All children are assigned a 'ZPD' by Accelerated Reader which then allows them to choose books that aren't too easy, but do offer some level of challenge to help improve their reading. The vast majority of the books in our school library are labelled with Accelerated Reader codes to help them when choosing a book to read. Once a pupil has read a book, they can complete a quiz on the book they have read which will focus on assessing both their word reading and comprehension of the book. Once the quiz is completed, pupils are then free to read another book within their ZPD. Children can read books on electronic devices if they prefer as they can still quiz provided the book is on Accelerated Reader.
Since launching Accelerated Reader in September 2022, our pupils have spent over 800 hours reading on MyOn and have read a combined total of over 28 million words!
To find out more information about how Accelerated Reader and MyOn work and how to support your child, please see the LMS Guide to Accelerated Reader here.
In afternoon registrations, on a Monday and Tuesday, all pupils are read aloud to by their form tutors. All tutor groups are reading whole books which have been voted for through pupil voice and give pupils to listen to a whole text, immerse themselves in text and foster a love of reading.
Reading for pleasure - afternoon reading by the Form Tutor
RATIONALE
Reading for pleasure comes with HUGE benefits for pupils!
Reading enjoyment has been reported as more important for children's educational success than their family's socio-economic status
There is a positive link between positive attitudes towards reading and scoring well on reading assessments
Evidence suggests that reading for pleasure is an activity that has emotional and social benefits
Other benefits of reading for pleasure include positive reading attitudes, pleasure in reading in later life, and increased general knowledge
Year 8 Voted afternoon reading book
Ravens Gate by Anthony Horowitz
He always knew he was different.
First there were the dreams.
Then the deaths began.

When Matt Freeman gets into trouble with the police, he's sent to be fostered in Yorkshire. It's not long before he senses there's something wrong with his guardian; with the whole village.

Then Matt learns about the Old Ones and begins to understand just how he is different. But no one will believe him; no one can help.

There is no proof. There is no logic. There is just the Gate.
First book in the series…..
"A supernatural adventure of the most chilling kind"
British Value links:
Rule of Law - Matt (the protagonist) begins to lose his way and is arrested by the police for committing a crime.
Democracy – the right to express a different opinions.
Year 7 Voted afternoon reading book
Scavengers by Darren Simpson
Landfill has lived his whole life as a scavenger, running with wooflings, swimming with turtles and feasting on whatever he can catch.

Old Babagoo has always looked after him, on one condition. Follow Babagoo's rules. And the most important rule of all is NEVER go beyond the wall. But Landfill longs to venture Outside. And some rules are made to be broken.
"Extraordinary...a hugely compassionate and sophisticated novel about inclusion and exclusion." - The Observer
British Value links:
Rule of Law - the story of Landfill and Babagoo cleverly unfolds to reveal many though provoking scenarios and raises a number of moral and psychological questions raising opportunities for debate. Breaking rules and consequence are also explored.
Individual Liberty - Landfill has had the liberty to live life as he wishes
Year 6 Voted afternoon reading book
Escape the Rooms by Stephen Mangan
The last thing Jack expected when he bungee jumped at the fairground was to plummet into a maze of underground rooms, full of traps, puzzles and some weird and wonderful people.
Alongside a mysterious girl called Cally, he must find the keys to unlock each room and find his way home facing hundreds of tiny yet ferocious lions, a revolting game of Would You Rather and some mind-blowing riddles on the way
"[Escape the Rooms] It reminded me a little of The Wizard of Oz, with the children on a quest through different lands to get home." Hadley Freeman, Guardian
British Value links:
Individual Liberty - Jack is faced with decision making and mystery throughout the book, shaping him as an individual. The story is humorous and whimsical but also explores the notion of dealing with loss and grief closely linked with SMSC and through Jack's emotional roller coaster he is able to develop a strong sense of self and understand the world around him.
Year 5 Voted afternoon reading book
Spellstoppers by Cat Gray
Max has spent years thinking he is cursed, because whenever he touches anything electrical it explodes. But then he is sent to Yowling and discovers he is a Spell stopper, someone with the rare ability to drain dangerous build-ups of magic and fix misbehaving enchanted items.

When Max's Grandad is kidnapped by the cruel Keeper of the malfunctioning magical castle that floats in the bay, only Max's gift can save him. Together with his new friend Kit, Max throws himself into an adventure filled with villainous owls, psychic ice cream and man-eating goldfish. But can he really pull off the biggest spell stop ever?
"Spellstoppers is a charming page-turner and I lapped up every moment of this magical tale." C Povey (children's author)
British Value links:
Democracy – Max has the right to protest against the evil keeper of the magic castle. He has the opportunity to make joint decisions with his friend Kit
Individual Liberty - Max makes a choice to jointly throw himself into standing up to what he believes is wrong.